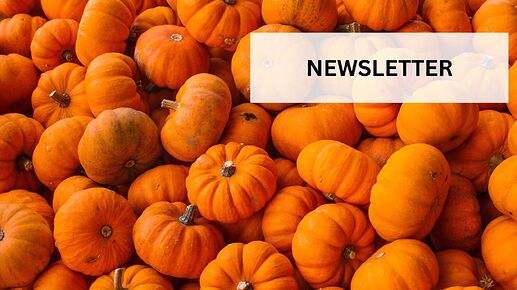 Dear friends and members of our Agile Community,
Tea, books, rain. Doesn't that sound like november? Isn't this the perfect time to start reading again? Yes it is !

The Mayflower blogpost is again filled with interesting topics and also the category question of the week offers impulses to discuss and think about certain things.
So maybe a tiny ray of hope for the upcoming grey month.
If you would like to send us feedback directly by e-mail, you can reach us at we@theagilehub.io.
We are excited and looking forward to the upcoming events with you!
And now we hope you enjoy reading,
Ben, Björn, Tim, Anna and Dani from the AgileUFRA organising team.
Platform News
We are now offering an additional registration option for our meetups: You can now register not only via theagilehub, but also via LinkedIn. This extension is intended to give you more flexibility and the opportunity to network in your professional community. Of course, the theagilehub registration option is still available to you.
Community News
One of the biggest things in october was definitely the PO Camp. To everyone who was there, thank you again for your participation. Do you guys know our Youtube channel? Check it out, there you will also find some recorded talks from the PO Camp !

As already teased above, a few new articles have gone online on the Mayflower blog. The topics in the blog range from AI and cloud to agile topics. Sounds interesting to you? Then this way : https://blog.mayflower.de/

The last event in our OKR Success Hour series for managers and decision-makers has taken place. Since your feedback and the demand was so good, we are already thinking about something new for next year.
Past AgileUFRA Meetups:
October 20th: "Fehlendes Product Ownership"
If you missed a Meetup we have made all the documents available to you in the private category: Meetup documentation. To access these documents, you need to register on TAH first!
What's coming in the next time
We already planned the next few Meetups. Safe the dates if theres a topic you like and leave us feedback in the comments if you have any more suggestions for us:
November 14th : "Euer Weg zum High-Performance Team"
"Als High-Performance Team werden Teams bezeichnet, die durch ihre Effizienz, Effektivität und Zusammenarbeit herausstehen. Solchen Teams sind in der Lage, Mehrwert schneller zu liefern. Das ermöglicht zeitnahe Feedbackschleifen und eine höhere Kundenzentrierung. Bei unserem Meetup erhaltet ihr Tipps, Best Practice und Tools/Modelle, um die Weiterentwicklung eurer Teams zu unterstützen."
November 28th : "Agile Games"
Grab your free tickets as soon as we upload them!
Our service offering
Are you looking for agile training for you and your colleagues in the company? We have something for you! Our training and coaching offer is constantly growing. Take a look at Trainings - Mayflower GmbH. There you will find exciting trainings by practitioners for practitioners.
If you need OKR Consulting, head over to this slidedeck.
In case we can help you with Tech Consulting i.e. Cloud Transformation, or Software Development, please let us (Mayflower) know.
So, we hope you found something exciting.
See you soon!